TAJIMA BEEF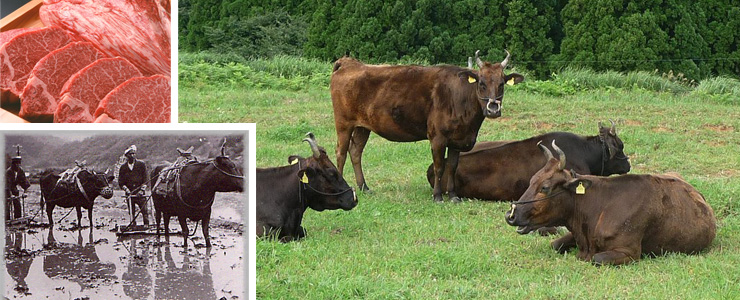 "Tajima-gyu" cows originally came from Tajima, a mountainous region in the north of Hyogo Prefecture which is bordered by the sea. Tajima cows have such a long history that there are descriptions in a historical book written in the Heian period(794 to 1185 AD) about their figure, qualities and characteristics as domestic cattle for working on farms, carrying goods, and eating.
Tajima cows are genetically strong and are highly prized as purebred seedstock cattle in the breeding of Wagyu cattle throughout Japan. They have also been used for crossbreeding, so many excellent Wagyu brands such as "Kobe beef", "Matsusaka beef" and "Omi beef" have inherited their genes.
However, mating and crossbreeding between Tajima cows raised in Hyogo Prefecture and other breeds of Wagyu cattle from other prefectures is still avoided today in order to maintain completely pure bloodlines. These cattle are supported by the love and pride of farmers who are trying to protect some important heritages, namely Tajima cows and Kobe beef.
The Tajima beef that's marketed today is known as "Tajima beef produced in Hyogo Prefecture", which means it's beef from Japanese Black cattle that have been raised and fattened in Hyogo Prefecture, with a BMS of 3 to 5. It becomes Kobe beef when it's 6 or higher.